After many years of experience in the field of photovoltaic parks construction, the ARServices company provides integrated services for the proper and efficient preventive maintenance as well as the corrective maintenance of the PV power station. The ARServices has developed maintenance workshops in South and Central Greece in order to ensure the immediate repair of damages. Our objective is the continuous monitoring of projects and their proper maintenance, which shall provide:
Maximum possible energy efficiency
Immediate diagnosis of possible damages and repair
Reduction of the equipment's strain and extension of its life duration
Compliance with the conditions set by the manufacturers of the equipment for the maintenance of its guarantees.
Reduction of damage probability of fire due to short circuits by loose wiring connections.
Fulfillment of requirements of insurance providers for the maintenance contracts.
Increase of after sales value of the project
Knowing the requirements of photovoltaic parks, our company has an experienced and qualified staff and is equipped with specialized instruments for the proper monitoring and diagnosis of each phenomenon that occurs in the installation.
The ARServices has specialized software (CMMS) for the management and the operation of photovoltaic power stations. Data of preventive and corrective maintenance are entered in this platform, by recording the past activities carried out in various projects.
Thanks to the software CMMS, which is specialized in the asset management and is directly compatible with the monitoring platform of Inaccess, the average repair time is reduced (Mean Time to Repair (MTTR)).
Furthermore, in the context of corrective maintenance, the ARServices has a reliable team of engineers for the immediate diagnosis and the subsequent repair of emergency damages.
The ARS Techical SA has specialized electrical engineers and it covers all the operations required for preventive maintenance of a photovoltaic project in the various parts that compose it. The ARS Technical SA covers the following tasks:
Measuring the performance of PV panels
Cleaning of PV panels
Check constrictions support system
Check of inverters
Check the electrical connections of panels
Checking the Medium Voltage fields
Automations (plc, sensors, scada, etc)
Checking the communication systems
Checking the Control and Security systems
I-V curve measurement with TRI-KA

Instruments for the measurement of ground resistance and insulation of the cables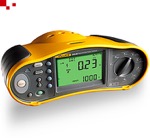 Network quality analyzers

Thermal Camera


Moreover our company in the context of invasive maintenance, has a reliable team of engineers for instant updates, potential harm reference, diagnosis and then restore, always in consultation with the developer.